Ajde i ja da se malo oglasim posle Blog Opena. Znam, malo kasnim, ali obaveze ne dozvoljavaju.

Iako sam imao primedbe na pravila konkursa za Blogopediju, naravno ne sporim kvalitet tekstova koji su objavljeni. Prvo bih, naravno, pohvalio organizatore na odrađenom mamutskom poslu, iako su imali sitnih propusta oni i ne zavređuju da se pomenu. Drago mi je da sam upoznao ljude koje znam godinama samo sa neta: Dedu, Pynkija, Miffa, Suske, Priju, Eniaca, Auroru, Waltera, Lightmana, Milosa, Borsky… drago mi je da sam video i one koje poznajem od ranije: Ivanu, Raina, Mazu, Kulica… drago mi je da sam upoznao i Mooshemu, Vesica, Varagica, Kisobrana, Acu – BizBuzza…
Što se tice radionica, otprilike šta sam očekivao to sam i dobio.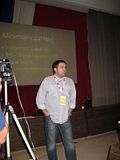 Radionica Gassnera i Basica "Blogging and Money making ", iako zanimljiva za naše prilike deluje mi kao bajka, bar po tome koliko oni zarađuju. Radionica Neila Alphonsa, nije mi bila u startu zanimljiva, ali dala mi je neke ideje (o tome ću nekom drugom prilikom, ako razradim sve to). Vesićeva radionica, koja je bila "za početnike", bila je dobar podsetnik za staro znanje i donela je neka nova saznanja. Radionica Web novinarstva, jedina koja me je "razočarala", i od koje sam očekivao nešto konkretno, bila je ništa drugo do reklama za samu školu web novinarstva (bar dok sam imao živaca da je pratim).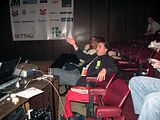 Svečana vecera prvog dana, došla je kao šlag na tortu, prijatna lica, dobra muzika, odlična klopa, puno šala i anegdota, ozbiljnih razgovora i ponuda, veselja… doprineli su da se zabavimo, opustimo i spremimo za drugi dan.

Deo drugog dana, iskoristili smo Maza i ja, da Ivanu odvedemo do Zlotske pećine, što je naravno imalo za posledicu da se malo neplanirano provozamo do Brestovačke Banje u potrazi za organizatorima i predavačima koji su bili na ručku. Izvinjavam se organizatorima, ako sam im tom prilikom pojavljujući se na ručku, pričinio materijalnu štetu ali vredelo je (kolenice i komentari Ace BizBuzza i Borisa o hrani bili su nesvakidašnji), pa im ovom prilikom obećavam da ću se i sledeće godine uvaliti na klopi, ali ovaj put namerno.

😉
Još jednom hvala svima na lepom druženju, i vidimo se sledeće godine.